Art
SMG proudly presents 'Saint Maria Goretti's Art Gallery!'
Pupils celebrated Saint Maria Goretti's Feast day by creating representations of the school's saint during a whole-school art competition.
Outstanding artwork!
Please visit our resident art teacher (Mr Calvert's) website.
Art & Design - Information for Parents
Art in our school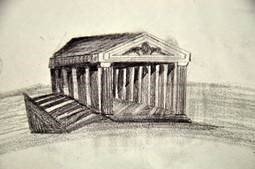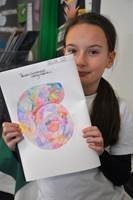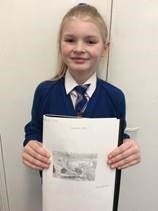 The children have had opportunities this term to create an individual piece of artwork that they are proud of. KS2 have worked with the artist in residence and have had the freedom to create any Artwork linked to the topic, inspired by Mr Calvert himself!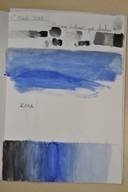 In order to deliver high quality outcomes for children, a structured lesson approach is taken to ensure that although expression and creativity is encouraged, progression within each lesson is clear and evident. To ensure this, a 4 step approach is delivered within a lesson:
Prior-Learning Assessment: This entails the children recapping, not only the prior learning from the previous lesson, but also the vocabulary used within other strands of Art and using Low-stakes quizzing in order to embed the knowledge of Artists focussed on within previous Topics.

Pre-Skills Assessment: Art books will be split into 3 sections, the first section will be for the Pre-skills assessment. This will focus on a specific skill within a strand of art e.g. brush techniques. The children will have 10 minutes at the start of the lesson to practise the skill focussed upon within a lesson, prior to any teaching.

Teaching of Skills: The main section of the 3 will be used for the majority of the lesson. After being shown how to use and implement Art techniques by the artist in residence, the children will have the opportunity to use these skills themselves by creating a piece of Art work.

Post-Learning Assessment: The final section is to assess the knowledge/ability of the children now that they have been taught specific skills and techniques by the artist in residence. This then shows clear progression throughout each lesson.
Cross-Curricular Learning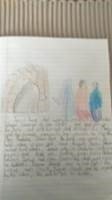 Across the school, the children use and implement their Art skills within a range of subjects thanks to our Artist in residence! It is evident that the teaching and learning of Art is transferable within all aspects of the curriculum. The Artwork above was created, at home, by Jagoda in Year 4. She has used a range of techniques such as shading, which was taught in an Art lesson, within her Religious Education work. The children across the school have immense pride for their RE books and often share them with guests and visitors. Within RE, the children are able to respond to activities in many ways which often results in fantastic Art pieces being created within the subject.
Career Links

Fortunately, our school has the greatest inspiration for Art leading to a top career! Mr Calvert has used his artistry skills within a range of careers, inspiring the children to the same.
Art can lead to many careers, such as:
Illustrators

Photographers

Architect

Fashion Designer

Landscaper

Painter

Sculptor
And so many more! To find out more information on careers within Art, follow: https://targetcareers.co.uk/career-sectors/arts-and-creative/894045-careers-in-art-and-design
Children's Activity Corner!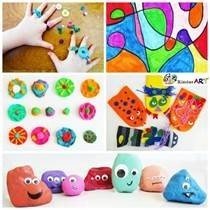 How creative can you be? Choose an Art activity from below and share your creations with your teachers via Seesaw. We cannot wait to see them!
Home Learning Activities:
https://theartyteacher.com/art-home-learning-inspiration-for-art-teachers/
https://www.bbc.co.uk/bitesize/subjects/zn3rkqt
https://kinderart.com/art-lessons/seasons/5-creative-activities-kids-can/
Art Skills:
https://www.diys.com/basic-drawing-techniques/ - A range of drawing techniques
https://www.youtube.com/watch?v=pMC0Cx3Uk84 – How to hold your pencil
https://www.creativebloq.com/art/painting-techniques-artists-31619638 - Must know painting techniques.
https://www.redtedart.com/teaching-kids-to-sew/?cn-reloaded=1 – Textiles (How to sew)
https://www.wikihow.com/Sculpt - Sculpting Basics
Children's Artwork