Mrs Cooper introducing the class Author
FS2
Welcome to FS2 at St Maria Goretti Catholic Academy
FS2 Staff: Miss Clarke, Mrs Philp, Mrs Bird and Miss Preece
Settling in presentation - Autumn 2020

Our Class Author – Julia Donaldson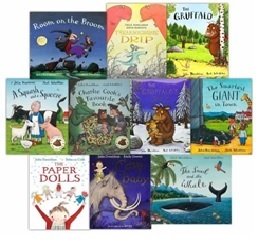 Summer Reading Challenge
Please take a look at the information on the attachment below regarding the library's Summer Reading Challenge. We can't wait to hear about your reading adventures in September!
Autumn Term
Religious Education:
We will be learning about Creation, People who Help Us and Advent.
Personal, Social and Emotional Development:
We will be learning to:
play in a group, initiate conversations with, and listen to, our friends and teachers, talk about ourselves and our abilities, understand how to behave in our class and begin to negotiate and solve problems.
Communication and Language:
We will be learning to:
maintain concentration, sit quietly and act appropriately during activities, understand and respond to complex two step instructions, follow a story without pictures or prompts and introduce storylines and narratives to our play.
Literacy:
We will be learning to:
blend and segment the sounds in words, read simple words and sentences, write our own name and other things such as labels and captions and link letters to sounds, naming and sounding the letters of the alphabet.
Mathematics - Number:
We will be learning to:
count objects up to and beyond 10, give the number that is one more than a given number, find the total number of objects in two groups by counting them all, use the language of 'more' and 'fewer'.
Mathematics – Shape, Space and Measure:
We will be learning to:
use the mathematical names for 2D & 3D shapes, order items by length, height, weight or capacity, use everyday language related to time and money and measure short periods of time in simple ways.
Understanding the World:
We will be learning to:
share family routines and customs, look closely at similarities, differences, patterns and change, talk about the natural world, complete simple programs on a computer and use ICT hardware to interact with age appropriate software.
Physical Development:
We will be learning to experiment with different ways of moving, travel with skill and confidence, hold a pencil correctly and use it to form recognisable letters and understand how to be fit and healthy.
Expressive Arts and Design:
We will be learning to:
build of repertoire of familiar songs and dances, explore the different sounds of instruments, create simple representations of events people and objects and play cooperatively as part of a group to act out a role play or story.
Important Information
Outdoor learning is an incredibly big part of FS2. Please make sure that your child has a jumper, wellies and a waterproof coat in school every day.
We are asking that all children bring in a water bottle to school every day. Please can this be clearly named and the children will be able to access their drinks as they want them throughout the school day.
Please ensure that your child is heard reading at least five times a week and remember to sign the reading diary each time you read with your child.
Please use your child's phonic and tricky word flash cards daily to help them learn how to recognise each phonic sound and read and spell each tricky word.
Our PE day is on Thursday.
Children will come to school in their named PE kit with their school jumper. This will help to reduce the amount of time spent changing and increase the amount of time they are engaged in physical activity.
Our PE kit is black shorts, a white t-shirt and black pumps. In colder/wetter weather, children can wear a pair of plain black or blue jogging bottoms.
Pupils MUST use a book bag to transport books and homework to and from school. Large rucksacks will not be allowed due to lack of storage space.
.
Useful websites:
Phonics Websites:
https://www.phonicsplay.co.uk/
https://www.youtube.com/channel/UCP_FbjYUP_UtldV2K_-niWw
Maths games:
https://www.topmarks.co.uk/Search.aspx?Subject=16&AgeGroup=1
https://www.bbc.co.uk/cbeebies/shows/numberblocks
Tapestry:
| Name | |
| --- | --- |
| FS2 - Home Learning - wc 13.7.2020.pdf | Download |
| FS2 - Home Learning - wc 6.7.2020.pdf | Download |
| FS2 - Home Learning - wc 29.6.2020.pdf | Download |
| FS2 - Home Learning - wc 22.6.2020.pdf | Download |
| FS2 - Home Learning - wc 15.6.2020.pdf | Download |
| FS2 - Home Learning - wc 8th June.pdf | Download |
| FS2 - Home Learning - wc 1.6.2020.pdf | Download |
| FS2 - Hime Learning - wc 18th May 2020.pdf | Download |
| FS2 - Home Learning - Week Coomencing 11th May 2020.pdf | Download |
| FS2 - Home Learning - Week Commencing 4th May 2020 (3).pdf | Download |